We are companies committed to the use of software for noise and vibration modeling, prediction, and control. Our Consortium helps us understand and more effectively use vibro-acoustics software for the design of quiet products.
OUR MISSION
The mission of the Vibro-Acoustics Consortium is threefold:
Training to help members use software tools more effectively
Software verification and qualification
Software/tools enhancement
Our mission is accomplished through focused projects, formal workshops, and informal one-on-one sessions working with software
PROJECTS WITH A PURPOSE
Projects are initiated with specific objectives in mind, for example, to determine the best combination of software tools for designing enclosures for products, or the most accurate method for estimating the noise radiated by a vibrating part or component. Projects are short-term, lasting one to six months, with objectives that can be confirmed with experimental results. Recent projects include:
Interior noise prediction
Design of enclosures
Software for radiation prediction
Evaluation of SEA software
Use of sound absorbing materials
Comparison of direct and indirect BEM
Evaluation of infinite elements
Rayleigh integral assessment
HOW THE VAC WORKS
At twice-yearly meetings, VAC members help define and review projects of mutual interest. These meetings are also opportunities for VAC members to network about software, modeling techniques, and experimental methods. Between meetings, engineers and graduate students carry out project objectives that are reported at the next VAC meeting.
REALITY CHECK : EXPERIMENTAL FACILITIES
Projects that have an experimental component are a VAC specialty. Test apparatus has been designed and built to evaluate SEA parameters, to verify software for modeling of partial enclosures, and to compare with software results for interior noise. Other projects with a strong experimental flavor include comparison of Rayleigh integral and BE results for engine noise prediction, measurement of transmission and insertion loss of muffler components, and the experimental determination of the propagation and attenuation constants of porous materials.
Experimental facilities include:
60 m2 hemi-anechoic chamber
250 m2 modal analysis laboratory
175 m3 reverberation chamber
Material characterization facility
Muffler transmission loss facility
Chassis dynamometer
Shaker capability up to 1000 lbs
WORKSHOPS AND TRANING
The VAC sponsors events that help members keep abreast of new technology in noise and vibration control. Recent training activities include:
Mini-Symposium on Flow Acoustics
Materials for Noise Control
Numerical Methods for NVH
Introduction to SEA
Interior Noise Prediction using FE
In addition to focused training activities, the VAC sponsors the highly successful NPS Workshops every other year.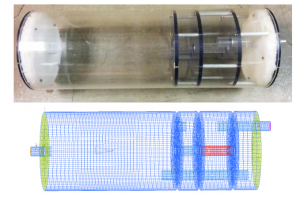 COMMERCIAL SOFTWARE
To support projects and training activities, the VAC maintains a suite of software for vibro-acoustics modeling and prediction. A partial list includes SYSNOISE, AutoSEA, ANSYS, NASTRAN, AKUSMOD, MECOSA, SEADS, I-DEAS and Pro/Engineer. Software is available for one-on-one training and demonstration.
COST AND BENEFITS OF MEMBERSHIP
Members benefit from a number of VAC features and services including:
Evaluation of vibro-acoustic software
Demonstration projects
Access to VAC software
Networking with peers in other industries
Access to students for hiring
One-on-one training
VAC workshops and training sessions
Access to facilities
Measurement of material properties
Memberships in the VAC is $8,000 per year. Member companies may send up to two individuals to all VAC meetings, workshops and training activities. Informal visits are also encouraged for one-on-one training for reviewing software and for consultation.